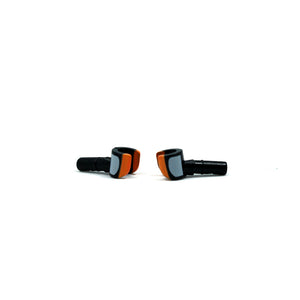 Lost Apprentice Fingerless Gloves
Lost Apprentice Fingerless Gloves
The horrors of war and heartbreaking betrayal can turn any naïve, young space wizard into a lone warrior, wandering the galaxy and dispensing justice.  Make sure they have the manual dexterity they need to survive on their own with eclipseGRAFX Lost Apprentice Fingerless Gloves!
eclipseGRAFX Fingerless Gloves feature a custom, pad-printed design that's been expertly applied to the minifigure hand for a durable, tactical look.
Includes:
- One pair (2) of custom-printed Lost Apprentice Fingerless Gloves (Light Bley and Orange Print)
All custom eclipseGRAFX minifigure hands are expertly printed on custom molded hands that are LEGO® compatible, durable, and stylish as ink does not easily adhered to the material LEGO® uses to produce their minifigure hands.  As such, we decided to produce our own hand mold to be able to create custom printed hands for your figures that are durable, have great clutch power, and best of all, feature exciting custom printing!
eclipseGRAFX® is not associated with The LEGO® Group. LEGO® is a trademark of the LEGO® Group of companies which does not sponsor, authorize, or endorse this site.
---
We Also Recommend
---