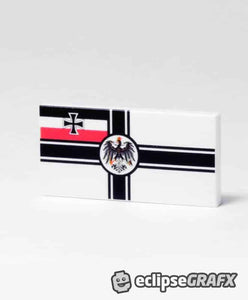 Flag of WWI German Imperial Battle Flag
Imperial War Ensign 1892-1903
This was the German War Flag (Reichskriegsflagge) used from 1892 to 1903. It was changed when the Germany army began to use this flag as a war flag on land.
After Wilhelm II succeeded to the Second Reich throne in 1888, this flag, with its redesigned Prussian eagle and Imperial arms overlaid in the middle on a white disc, came into used until the flags last change in 1903.
Highly Durable printed flag on a genuine LEGO 2x4 Tile.
LEGO® is a trademark of the LEGO® Group of companies which does not sponsor, authorize or endorse this site.
---
We Also Recommend
---