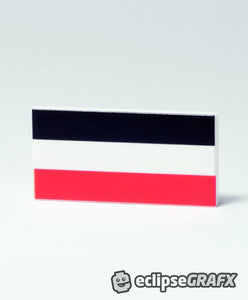 Flag of Imperial German Tricolor 1892-1918
The black-white-red striped German imperial flag was adopted by the North German Confederation in 1867, as a combination of the black-white of Prussia and the red-white of Brandenburg. In 1871 it was adopted as merchant flag for the German Empire, and in 1892 declared to be the national flag of the Second Reich and continued in use until 1918. It was briefly reintroduced later just prior to World War II between 1933 and 1935, and used jointly with the Nazi swastika flag, then banned as symbol that could be used by "reactionary" groups.
Highly Durable printed flag on a genuine LEGO 2x4 Tile.
LEGO® is a trademark of the LEGO® Group of companies which does not sponsor, authorize or endorse this site.
---
We Also Recommend
---