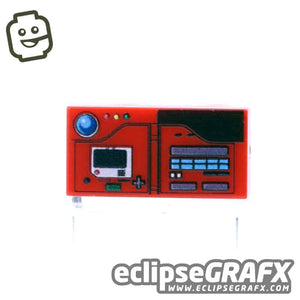 Dexter
Equip your minifigs with the an EclipseGrafx Dexter, a Monster Cataloging Device, to let them record everything they encounter on their advantures!
Dexter is a pocket sized digital encylopedia that is only given to the most worthy of explorers.
With dexter by your side, you'll never have to worry about not knowing what type of creature you've run into as it will give you a brief description and any other relevant information on the creature.
Dexter also has a feature which allows you to look up information such as average weight, height, footprints, and locations of any creature that you've encountered.
Dexter can also fold up into a much more portable pocketsize to allow for easy transportation.
Dexter is digitally printed onto official Lego parts and comes in both Folded and Open variants. Please note that the Open variant does not actually fold in half.
LEGO® is a trademark of the LEGO® Group of companies which does not sponsor, authorize or endorse this site.
---
We Also Recommend
---