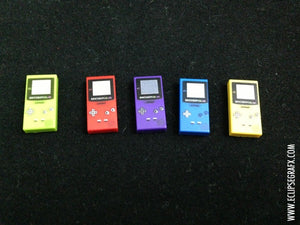 Brickboy
The EclipseGrafx Brickboy is a great accessory for minifigs who want to take a break from reality.

Whether traveling or at home, the brickboy is a great way to keep any one of any age entertained.

The Brickboy's compact size and large library of fantastic games like Uber Brick Bro and Brickman make it ideal for gaming on the go!

Our brickboys come in a wide variety of colors so you can choose the color that best suits you!

Brickboy is currently available in the following colors:
- Purple
- Red
- Lime
- Blue
- Yellow

Our brickboy is digitally printed onto official Lego parts making it perfect for both play and display.

*Please note that the Brickboy does not actually play video games.* LEGO® is a trademark of the LEGO® Group of companies which does not sponsor, authorize or endorse this site.
---
We Also Recommend
---